Tempus Fugit. That was the name of my pet tortoise when I was knee high to a grasshopper. And if Tempus Fugit was still alive today, he'd tell you that time flies (although in truth he never had the power of speech despite the training regime I devised for him).
Anyway, time does indeed fly, and here we are again, a few short weeks from another musical extravaganza. This is evidenced by a number of factors; islander tickets have gone on sale, musicians' accommodation is being sorted out and, of course, the festival organisers are coming out of hibernation. Oh, and the Ceòl 2015 Tee shirts have been ordered.
This year, the chosen colour is Cardinal Red. So if you ever aspired to high church office but lapsed along the way, here is your chance to don one of our Tees and role play to your heart's content. A snip at twelve quid! And here is the colour in question :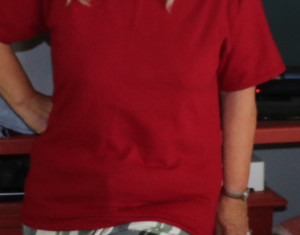 Except that it's not. We found it impossible to capture the true shade on camera (it is darker than in the photo), despite trying an arial shot (standing on the table), altering the lighting (shutting the curtains), and multifarious other secret tricks of the photographic trade. So we do understand if you don't want to order in advance. But if you do, send an email to ceolkeith@yahoo.co.uk Payment upon collection.
See you soon!
Keith.