A HAPPY NEW YEAR to festival goers, friends of festival goers, potential festival goers and, in general all goers.
And a massive thank you from Keith and Pedie for the encouragement, help, support and friendship we've received over the last nine years.
BIG THANKS
Ceòl Cholasa 2017 is well into the planning, and being our 10th we are delighted to announce that one of our acts from year one Karine Polwart will be returning to headline the festival. This will be the third attempt to lure Karine back. Once we were stymied by the weather and then there was the small matter of a referendum, so fingers crossed there will be no surprises this year.
Karine will be accompanied by her brother Steven and the wonderful Inge Thomson.
Also making a return visit are the fabulous Rallion. Fiona (the fiddle) gave us great encouragement as we set up the first festival basically with advice along the lines of (get of your ar..s and) "just do it"…and we just did.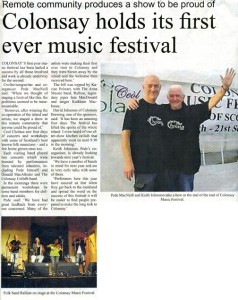 For Ceòl Cholasa 2008 we booked 4 bands, we had no idea what we were getting into but a lot of optimism and
large measures of faith. Keith thought I knew what I was doing as main music man; I thought Keith knew what he was doing as main money man: turned out neither of us had a clue! Rallion drove off the ferry at 7:30pm and got themselves on stage by about 8pm to perform a stonking opening set. The standard was set and we've been fortunate that over the next ten years we have managed to maintain that standard and to entice many of the best performers in the folk/roots/traditional genre to appear at Ceòl Cholasa.
At the start we booked only Scottish bands but over the years we have broadened our horizons  with Irish, Swedish, German, Canadian, American and even English performers gracing the stage. This year we are delighted to welcome the incomparable Anthony John Clarke who will be playing on the Wednesday evening. Anthony John is a consummate performer and wonderfully evocative Irish songwriter.
He is also very, very funny! His concert on Wednesday will be the first of the visiting "folk" acts but not by any means the start of the festival. Wednesday afternoon will be a chance to sample a "Taste of Colonsay" in the widest sense with locally sourced and prepared food, music from local songwriters/musicians and maybe the odd Colonsay inspired poem…and of course, beer.
But even that's not the start. On Tuesday night we will be having a musical theatre performance from "Tidy Carnage" accompanied by some fine food in a cabaret style setting and while the thespians are getting organised in the afternoon Colonsay and Oransay Heritage trust will be hosting an illustrated talk on Colonsay – the last 100 years- as well as giving you a chance to examine their exhibits and exhibitions, all in their new home in the Baptist Church.
Coffee and cakes will be abundant!
On Monday we there will be a chance to see what the Island gets up to with displays from the Local Development Company, Hall Committee, Fish Farm , Brewery and anyone else we can rustle up. (tbc) There is a rumour that, not content with producing a delicious gin Colonsay Brewery might be making a "Festival Beer".
Then maybe just a wee bit of music in the pub at night.
MAKE A WEEK OF IT…GO ON.
Tickets will be on sale soon including a festival pass which will cover all the events from Anthony John Clarke onwards. Day tickets and event tickets are also available but by far the cheapest option is the the festival pass. It also helps greatly in the budgeting if we have an accurate idea of numbers. Anyone holding a Festival Pass will also be eligible for a 20% discount on fringe events.
www.anthonyjohnclarke.com
www.rallion.co.uk/livereviews.htm
www.karinepolwart.com/